If you are looking for an English version of this writing, please visit here.
Geçtiğimiz aylarda, siber güvenlik alanında uzman birbirinden değerli isimlerden Dr. Erdal ÖZKAYA, MSc. IS. Raif SARICA ve Msc. CS. Şükrü DURMAZ'ın bir araya gelerek kaleme aldıkları Siber Güvenlik: Saldırı ve Savunma Stratejileri kitabını hem de Erdal Bey'in bireysel olarak kaleme aldığı The Art of Human Hacking ve Getting Started in Cybersecurity kitaplarını, siz değerli siber güvenlik meraklıları için imzalı olarak kendilerinden temin etme şansım olmuştu.
Siber güvenlik dünyasına adım atmak isteyenlerden siber saldırılar hakkında geniş kapsamlı bilgi edinmek isteyen siber güvenlik uzmanlarına kadar geniş bir okuyucu kitlesine hitap eden ve mutlaka elinizin altında bulunması gereken bu üç kitabı, değerli yazarların da katkıları sayesinde çekilişle sizlere hediye etmekten büyük bir mutluluk duyuyorum.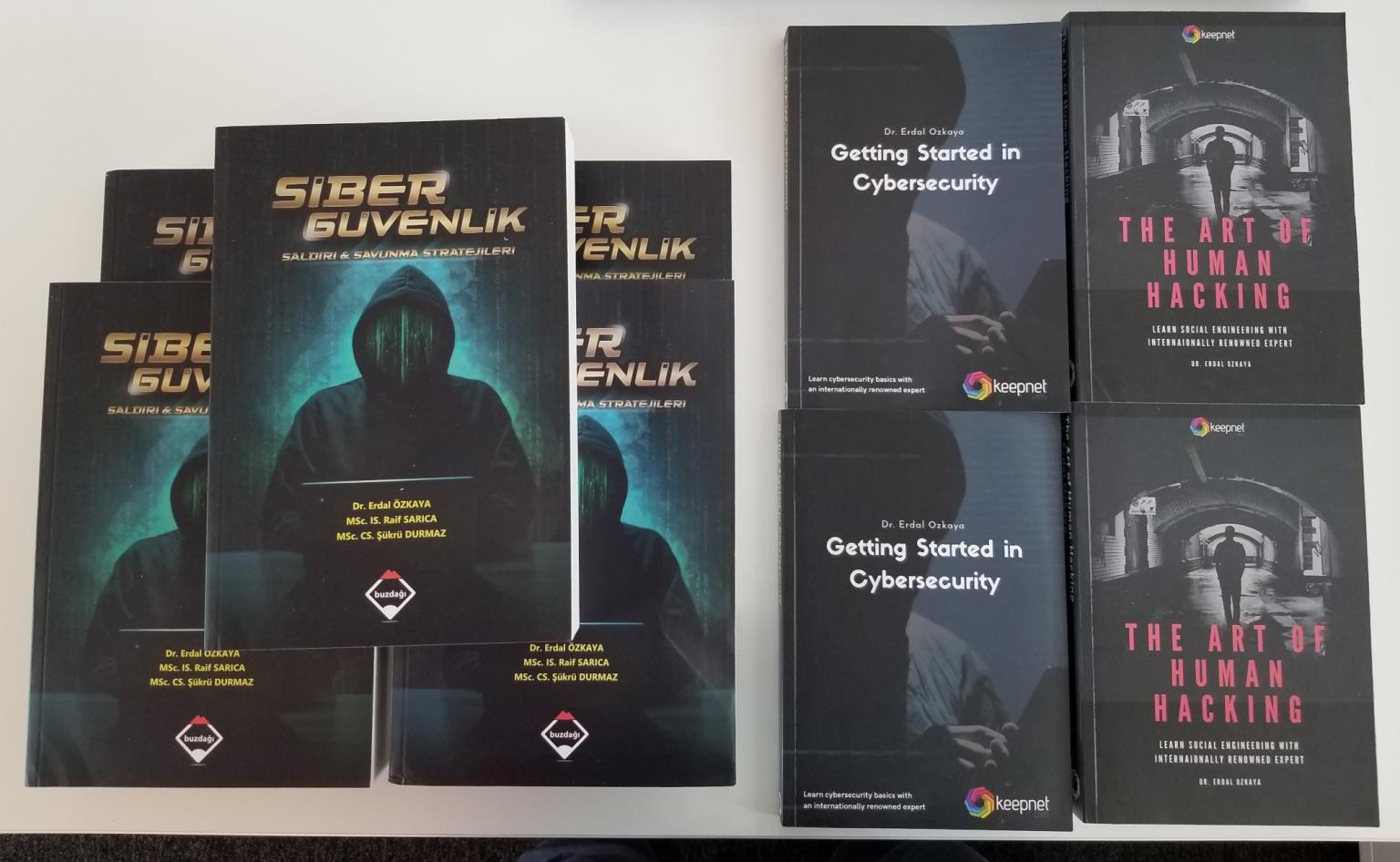 28 Şubat Cuma Saat 18:00'a kadar, Kitap Hacker'ın En İyi Dostudur #7 :) blog yazımı Twitter üzerinden @MertSARICA etiketi ile birlikte tweetleyen (profili genele kapalı olanların paylaşımından haberdar olamayacağım için tweetlerinin ekran görüntüsünü bana özel mesaj veya e-posta (mert.sarica [@] gmail.com) ile göndermelidirler) veya LinkedIn üzerinden Mert SARICA etiketi ile birlikte paylaşan (doğru bir şekilde etiketlemeyenlerin paylaşımından haberdar olamayacağım için bu konuya dikkat edilmelidir) paylaşan 8 kişiye bu kitaplardan birini çekilişle hediye edeceğim.
Twitter profili genele açık olup çekilişe katılanların tweetlerini favorilere ekleyip, Linkedin'de paylaşımda bulunanların ise mesajlarını beğeneceğim (like) için çekilişe katılıp katılamadıklarını iki ortamdan da rahatlıkla öğrenebilecekleri gibi buradan da çekiliş listesine eklenip eklenmediklerini kontrol edebilirler.
Çekiliş kurallarına uymanıza rağmen paylaşım yaptığınız halde mesajınızı beğenmemişsem, 2-3 gün içinde çekiliş listesinde yer almamışsanız lütfen beni uyarmaktan çekinmeyin. Uyarmadan önce de lütfen internet tarayıcınızın önbelleğini temizleyip (veya CTRL-F5) listeyi kontrol ettiğinizden emin olun.
Çekiliş sonucu, 1 Mart 2020 tarihinden sonra Twitter ve Linkedin hesaplarım üzerinden duyurulacaktır.
Çekiliş kuralları ve notlar:
Bir kişi, çekilişe bir defa katılabilir.
Çekilişe, Twitter veya Linkedin hesabımı 26 Şubat 2020 tarihinden önce takip etmeye başlayanlar katılabilir.
Twitter profili genele kapalı olanlar, tweetlerinin ekran görüntüsünü bana e-posta ile göndermelidirler.
Twitter, Linkedin hesabının sahte, botnet ağında olması vb. şüpheli durumlarda çekilişe dahil edilmeyecektir.

Not: Hediye çekilişi sonuçlanmış ve Twitter hesabım üzerinden duyurulmuştur.